How To Redeem Your Points
The following shows you how to register and use your reward points.
Our Reward Points are awarded on qualifying products, they have no cash value and they cannot be transferred or used in combination with any other promotion. Additional terms may apply.
Step 1.
If you haven't done so already, please open an account with us.

Register a few details with us and you'll be able to:
See your order history
Re-order with one click
See all your favourites in one place
Join our newsletter to receive exclusive news & discounts
Step 2.
Once registered, its time to go shopping. Every product will have a set number of reward points you can earn when purchased. The example below shows that 20 reward points will be added to your points bank if you purchased the product. If you bought 3 bottles this would earn you 60 points.

Step 3.
Once you have finished shopping its time to click on the shopping basket. This will bring up your order and will display the total number of points you have earned via this transaction.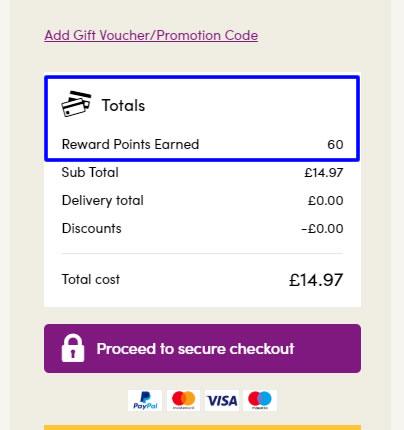 Once you have collected over 500 reward points, you can use them against future purchases. The minimum you can use is 500 points (equates to £5 off your order) and in increments of 500 points thereafter e.g. 1000 points (£10.00) and 1500 points (£15.00).

Step 4.
At the checkout stage, you would see the screen above. To use your points (make sure you have over 500 points) simply click on the redeem for a discount. This will then change to the screen below:
IMPORTANT
Please note that if your order falls below £14.50 after redeeming your points, you would be charged £3.50 for delivery. Not the best way to use your points. We recommend that you have an order over £19.75 in your basket before redeeming 500 points.